Blasting will close down Highway 97 north of Summerland for one hour today, Monday, Jan. 16.
According to a post from AIM Roads, Highway 97, in both directions will be closed for blasting taking place from 1 to 2 p.m. The closure is between Bridgeman Road and N Beach Rd. for 4.5 kilometres.
Watch for traffic control personnel.
Numerous blasting closures have taken place throughout December and January as crews work on the rock slide area. The rock slide took place in 2019.
The Ministry of Transportation has monitored the site since November, after small rocks fell onto the highway in the Callan Road area between Summerland and Peachland.
A geotechnical assessment of the area has since been conducted and blasting work was previously completed on Dec. 18 and Jan. 5.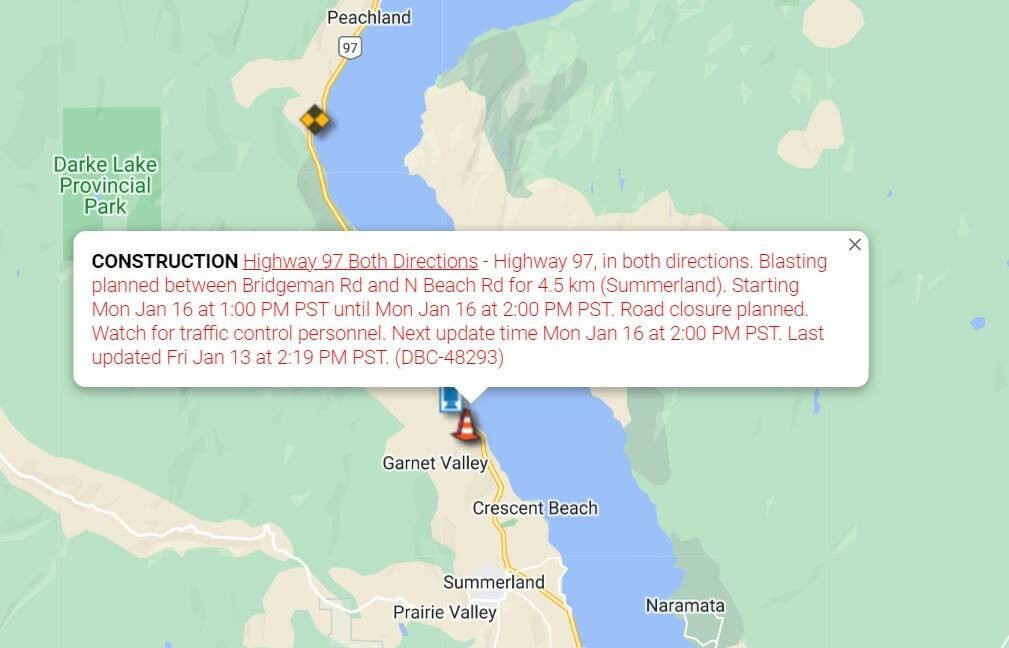 READ MORE: Blasting work to close Highway 97 north of Summerland
To report a typo, email: editor@pentictonwesternnews.com.
<>
Don't miss a single story and get them delivered directly to your inbox. Sign up today for the Penticton Western News Newsletter.
<>
---
@PentictonNews
newstips@pentictonwesternnews.com
Like us on Facebook and follow us on Twitter.