Hop on the Sorcery Express this Halloween and then go window shopping in Alchemist Alley, explore the Wicked Woods, Putrid Pumpkin Patch and tour the Summerland Secondary School of Sorcery.
The Queen of Halloween Heather Pescada is at it again, but this year she's been asked to bring all her spooky Halloween magic onto the Summerland KVR steam train.
It's not all fun and games though. As you may have heard, magical spells can go wrong and you will see the results from this Oct. 21 to 23. There will be family-friendly fun runs and a scary experience night trains for three days, with partial proceeds going to the Summerland dry grad.
Pescada who is head sorceress, director and producer, has been working on this Harry Potter experience since February.
You may have already heard of Pescada, who hosts the Peskelly skeletons at her Trout Creek front yard every day of October leading up to Halloween. The Peskelly family are posed and dressed up differently each day, getting into all sorts of shenanigans.
She also sets up a themed haunted house for kids to walk through on Halloween night. Last year, she saw long line-ups of eager trick-or-treaters at her house.
READ MORE: Trout Creek Halloween House invents giant candy chute
As her sons went into Grade 12, she played a large role in creating Halloween grad fundraisers, with all sorts of terrifying and creepy themes throughout. With no more children in school, she thought her haunting days were over for Summerland Secondary.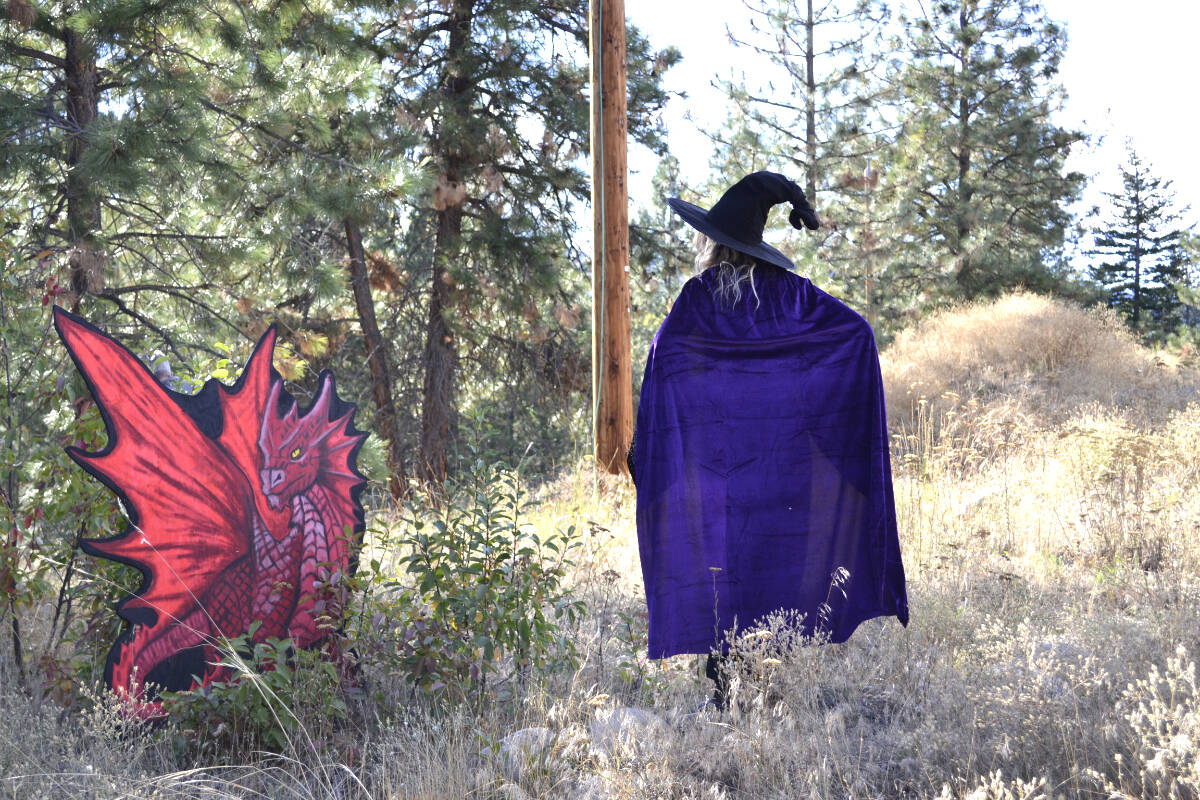 "I was asked if I would be interested in doing another grad Halloween fundraiser but this time on the KVR train. I couldn't possibly pass up this opportunity, so I accepted and have been planning since late February," said Pescada. "Ask my husband and friends, I've been pretty much consumed with this because I want it to go perfectly."
Her idea was to create a Hogwarts Express minus all that terminology because of copyright issues. Plus, this train is the Summerland Secondary School of Sorcery, not Hogwarts.
The grads of 2023 will be the actors and actresses in this event and the KVR train will donate $10 from every ticket sold to their dry grad. Train guests can expect to see a fortune teller on board and some other tricks up their sleeves, as well as some hauntings on the tracks.
Once off the train, people can tour the various haunted classrooms of the Summerland Secondary School of Sorcery, if they dare!
Pescada says to bring your gold (loonies and twonies) for some butter beer, lattes, snacks and more. There will even be interactive wands to purchase.
As always with the Halloween trains, the family trains are already sold out, with seats still left for the adult rides. They are opening up another family friendly train at 3 p.m. on Oct. 22.
Get your tickets at the Kettle Valley Steam Railway website.
To report a typo, email: editor@pentictonwesternnews.com.
<>
Don't miss a single story and get them delivered directly to your inbox. Sign up today for the Penticton Western News Newsletter.
<>
---
@PentictonNews
newstips@pentictonwesternnews.com
Like us on Facebook and follow us on Twitter.