Electric cars are well and good, but with Dodge, Ford and General Motors selling full size pickups in huge numbers, perhaps the electric vehicle that matters most to the companies and their customers is, well, a pickup.
Enter the Ford F-150 Lighting and GMC Hummer, followed by the Chevrolet Silverado EV that's due as a 2024 model. In the wings are haulers from Ram, Rivian, Lordstown Motors plus Tesla with its stealth-aircraft-shaped Cybertruck.
GM has planned to phase out the sale of new internal-combustion vehicles by 2035 — zero emissions only by that point — and a critical part of that will be converting pickup drivers sooner than later.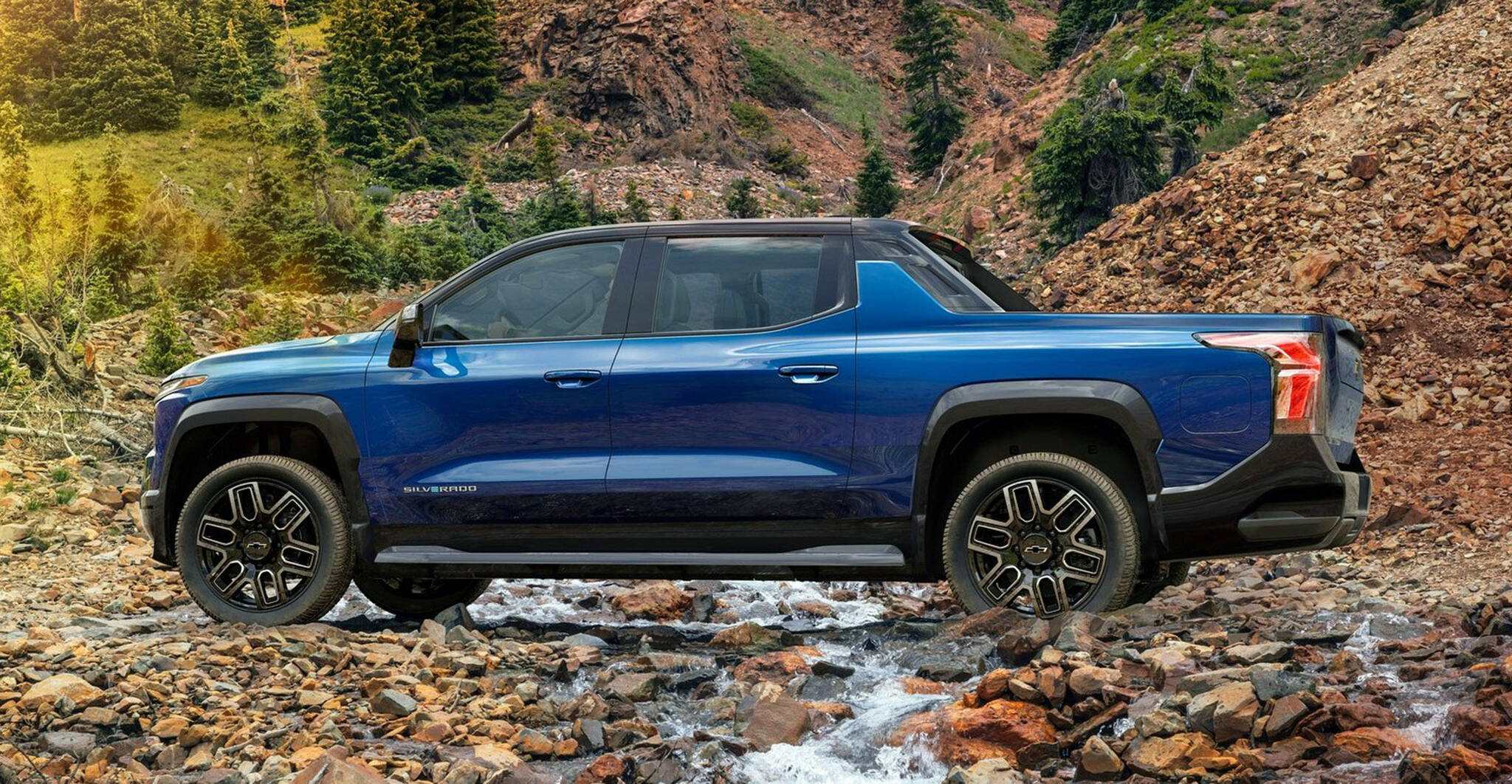 With apologies to the megabuck GMC Hummer, it's the Chevy that will likely dominate the GM effort. A related GMC Sierra EV is also expected.
Helping matters, the Silverado Crew Cab EV's design doesn't stray too far from the gasoline variant's, with one major exception. Chevrolet has revived the Midgate feature that was part of the long-gone Avalanche and Cadillac Escalade EXT pickups.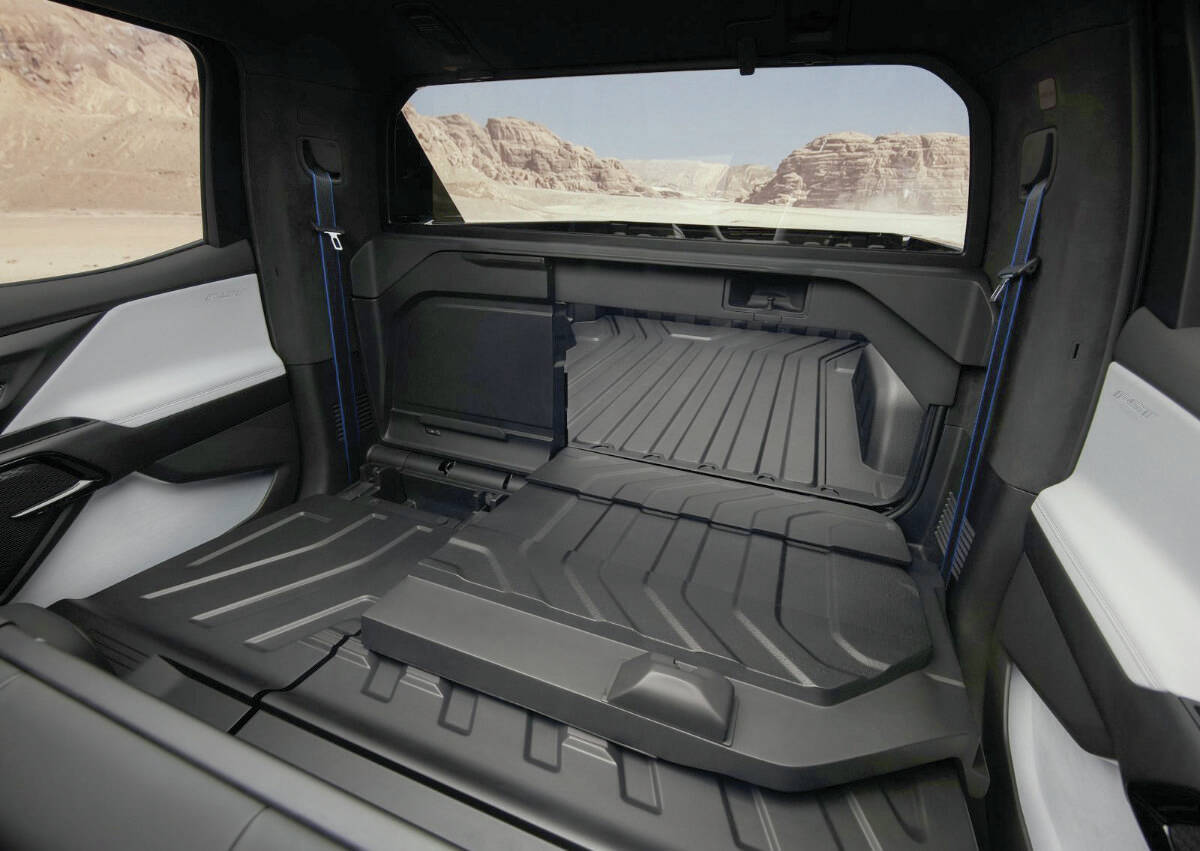 It's optional and consists of a split-folding wall below the rear window that separates the bed from the cabin. With it fully lowered — or with half of it lowered when room for a single rear passenger is needed — you can transport cargo that's slightly longer than nine feet (2.7 metres).
Also optional is GM's Multi-Flex tailgate. It can be converted to a stand-up workstation and when lowered it has a flip-up cargo stop to help secure items up to 3.3 metres long (with the Midgate in use). There's also a fold-out step for easier access to the bed. A small front trunk is located beneath the hood.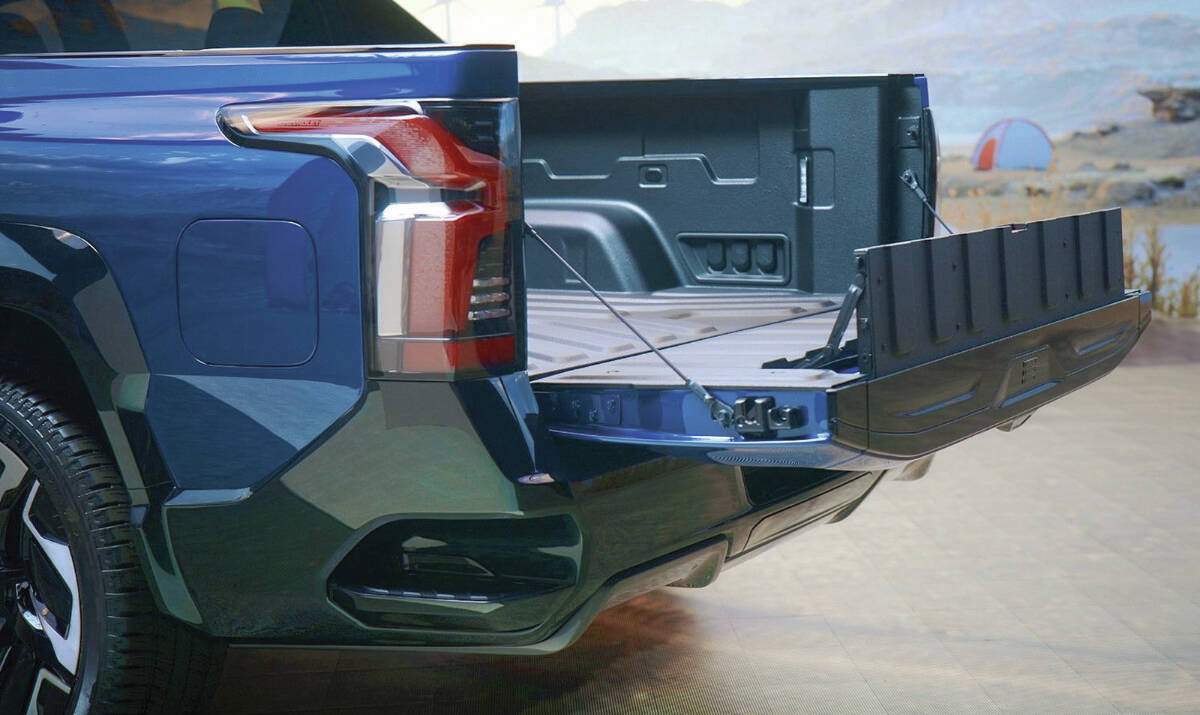 The Silverado EV rides on GM's Ultium platform, the backbone for all the company's current and upcoming electric vehicles.
Independent front and rear adaptive air suspensions allow the body to be raised or lowered up to five centimetres.
As with the GMC Hummer, the Silverado EV can be had with four-wheel-steering. It's designed to reduce turn radius to increase maneuverability in tight parking spots and improve steering precision on the highway.
For the base WT (Work Truck) models, the interior's distinguishing features include an 8.0-inch configurable instrument display plus an 11-inch infotainment screen. The RST gets an 11-inch gauge display and a 17-inch infotainment screen. There's also a heads-up info display that projects information onto the windshield.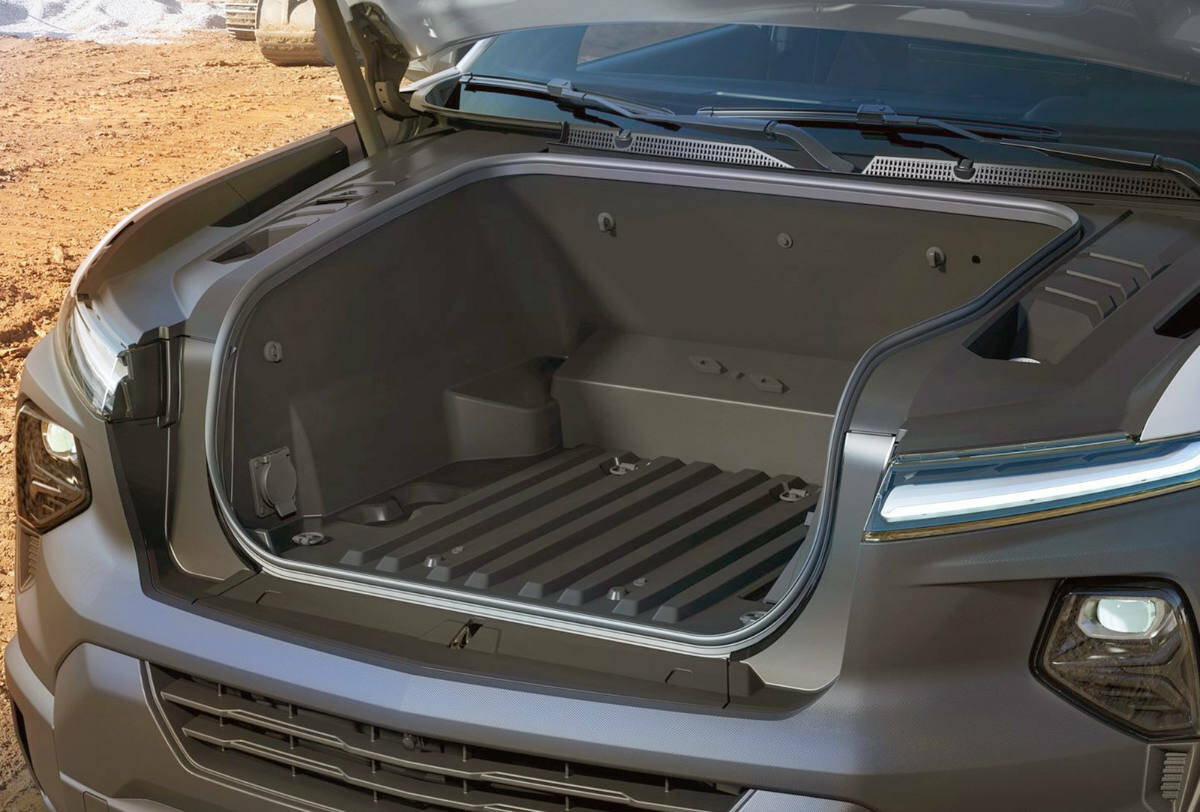 All-wheel-drive with front and rear electric motors is standard. Supported by the WT's battery pack, they produce 510 horsepower and 615 pound-feet of torque. That's significantly more than any current gasoline-powered Silverado.
The WT can haul up to 545 kilograms of payload and tow up to 3,640 kg. The RST is rated at 590 kg payload and 4,545 kg of towing. An available Max Tow package boosts that to 9,100 kg, but there's no indication of how battery range will be negatively impacted when towing. Chevrolet estimates a 640-kilometre range for the WT, but other trims will likely differ. According to Chevrolet, more robust available batteries will deliver as much as 664 horsepower and 780 pound-feet. Zero-to-60-mph (96 km/h) times of less than 4.5 seconds are also anticipated.
Every 10 minutes the Silverado EV is plugged in to a commercial-grade 480-volt DC fast charger will restore about 160 kilometres of range. Consider a 240-volt home charger as the bare minimum to get the battery pack topped up overnight.
Being a large power source provides some significant advantages over conventional pickups, some of which will be perfect for the job site. An optional 10-outlet Power Base charging system can run power tools and accessories without a generator, and can also provide juice to another EV.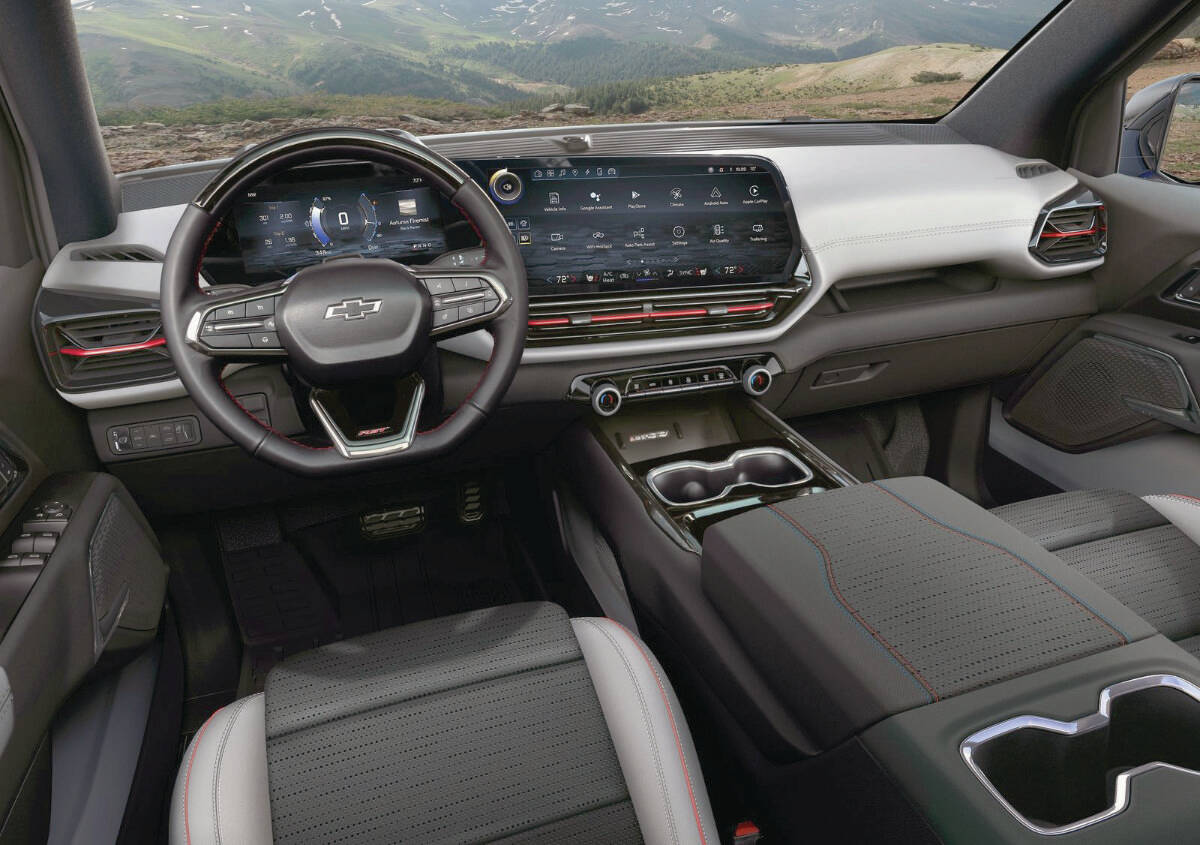 Buyers can reserve their Silverado EV at reserve.silveradoev.chevrolet.ca with the Work Truck expected to list for $54,400, including destination charges.
The top-end RST model with a sticker price of $106,700 is expected in the fall of 2023. Also included with that model is a fixed-glass roof and a premium interior with an oversized seven-gallon-capacity (27-litre) floor console. Exterior lighting is automatically activated when approaching the truck at night. In between, the lineup will eventually include LT, LTZ, Trail Boss and High Country models.
By then, the market will be awash in electrics of all descriptions, with pickups such as the Silverado EV claiming their rightful slice of the pie.
What you should know: 2024 Chevrolet Silverado EV
Type: All-wheel-drive full-size electric pickup
Motors (h.p.): Front and rear (510/664)
Transmission: Single-speed controller
Market position: The Silverado EV is the litmus test of consumer appetite for an electric pickup. The styling is different but familiar, and with plenty of tricks up its sleeve, it's not merely an electric version of the Silverado. Buyers appear to be lining up to get theirs.
Points: GM has all its eggs in one basket with the Ultium battery platform and this is just one iteration. • The anticipated 640 kilometres of range will be plenty for the majority of owners, but charging times at anything other than a commercial station will be lengthy. • Big horsepower and torque numbers. • Being a mobile power station is a significant advantage over the internal-combustion Silverado. • The front trunk and the optional Midgate provide extra (and unique) cargo/hauling flexibility.
Active safety: Emergency braking with pedestrian detection (std.); lane-departure warning and lane-keeping assist (opt.)
*A more complete list will be announced closer to launch.
L/100 km-e (city/hwy): TBA Base price (incl. destination): $54,400
BY COMPARISON
Rivian R1T
Base price: $98,500
Now cleared for delivery in Canada. Range estimate is 500 kilometres.
GMC Hummer EV
Base price: $86,650
It's a brute, with up to 1,000 horsepower. Also uses Ultium platform.
Ford F-150 Lightning
Base price: $70,200
Standard AWD, slightly less base horsepower and range than the Chevy.
– written by Malcom Gunn, Managing Partner at Wheelbase Media
If you're interested in new or used vehicles, be sure to visit TodaysDrive.com to find your dream car today! Like us on Facebook and follow us on Instagram